Functional scope of the nPro tool
An overview of the functional scope of the nPro tool can be found on this page.
Key advantages
nPro is a modular, flexible software tool that simplifies and accelerates the manual planning process of quarters. It has been developed especially for the early planning phase, when only little information about a district and energy system is available. The key advantages of the tool are:
User-friendly and intuitive interface
Excel export functions for all calculation results
Time series export as Excel file, csv, txt or Modelica format.
nPro is modular: nPro is not a large monolithic tool; this means it can be used as flexibly as the planning of complex energy systems requires: All intermediate results can be exported for own calculations and only relevant input data is required to be provided by the user.
User-friendly import of time series: Time series can be conveniently loaded from Excel via copy & paste. In addition, costumized time series can be created manually with a few clicks.
Share projects with other users: In district energy projects, oversized Excel files with different planning statuses often circulate among the project partners. There is an easier way to do it: Share the current project status easily with other project partners in nPro and work together on the most current planning status.
Multi-modal systems need dynamic profiles: The still frequently used static design methods fall short for systems with renewable energies. For the calculation of self-sufficiency rates, for example, time series of hourly resolution for a whole year are required. For this reason, all calculation steps in nPro are based on an hourly resolution with 8760 time steps.
nPro is the ideal tool to standardize and accelerate the creation of district energy concepts - especially in the early planning and bidding phase of projects.
Generating energy demand profiles: Fast and easy
nPro uses an extensive database with daily profiles and building KPIs, which makes it possible to create energy demand profiles with hourly resolution with just a few clicks. In this way, matching demand profiles can be generated for space heating, domestic hot water, space cooling, process cooling, plug loads and e-mobility.
Innovative approach for the calculation of annual profiles taking into account diversity factors
All demand profiles have hourly resolution.
Quickly create matching and consistent demand profiles: Using inconsistent time series within a project with different time resolutions or different design and weather years is now a thing of the past.
nPro takes over the tedious research of demand parameters: For nPro, demand data from hundreds of studies have been compiled and the obtained datasets are available to users of the tool.
nPro currently includes 18 building types and a variety of subtypes - from residential, over schools and supermarkets, to shopping centers.
Creation of customized demand profiles for existing buildings - if real measured data such as heating load and annual demand are known.
Creation of demand profiles for e-mobility.
Consideration of holidays, school vacations and time shifts
Methods for demand profile generation were validated using real measured data from buildings in several German cities.
Heating and cooling networks
Consideration of diversity (simultaneity) factors using a proprietary calculation method.
Estimation of heat losses and pump work without knowledge of the heat network topology

5GHDC networks (anergy networks)
nPro was specially developed for the planning of 5GDHC networks and takes into account all relevant thermo-hydraulic effects in the design calculation. The key advantages are:
Decision support for choosing an insulated or uninsulated network
Calculation of heat gains of 5GDHC networks
Optimization of the installation depth
Analysis of the influence of the network temperature profile on the overall performance of the district energy solution
Calculation of the balancing potential of heating and cooling demands within a 5GDHC district
Optimization of seasonal network temperature profiles with respect to heat losses and gains as well as heat pump COPs
Design of special heat storage systems for 5GDHC networks for storing of heat and cold
How nPro can be used for planning a 5GDHC network is described in this
case study
.
Pipe dimensioning
nPro facilitates the optimization of pipe diameters of heating networks and 5GDHC networks at an early stage of a district project.
Semi-automated pipe network dimensioning for heating and cooling networks
Pipe network dimensioning for 5GDHC networks taking into account the balancing of heating and cooling demands
Pipe diameter optimization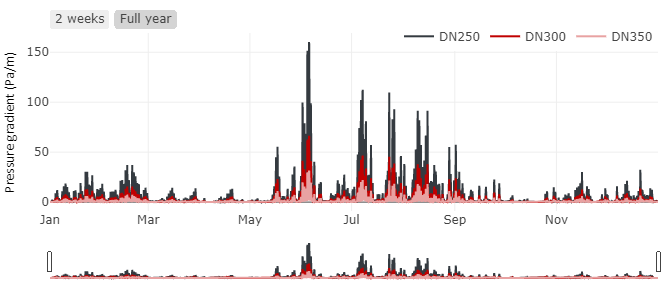 Optimized plant sizing
At the heart of nPro is a powerful optimization engine for the design of energy systems, which is based on the cutting-edge computational methods from the field of mathematical optimization.
nPro determines which energy system configuration is most economical and determines the optimal system size for all components.
Calculation times of a few seconds allow quick iterations and sensitivity analyses.
Design calculations from nPro use an hourly time resolution, which accounts for fluctuating renewables.
Demand profiles can be specified for electricity, cooling, hydrogen, as well as low and high temperature heat.
Automated sensitivity analysis with respect to optimal plant capacities for different CO2 prices.

Heat pumps
In nPro, 5 different heat pump types can be considered and simulated. These include:
(Large-scale) air source heat pumps
(Large-scale) ground source heat pumps
Chillers with heat recovery, which simultaneously provide heat and cold
Compression chillers
Booster heat pumps for waste heat and ambient heat
The coefficients of performance (COP) are crucial in the simulation of heat pumps. Key features in nPro are:
Consideration of COP profiles with hourly resolution
Real COP data is stored in the tool for a number of heat pump models.
Hydrogen
Hydrogen technologies can be considered in the design and simulation of energy hubs. Key features are:
Dimensioning of seasonal hydrogen storages
Heat recovery from electrolyzers and fuel cells
Hydrogen injection into the natural gas grid
Specification of hydrogen demands to be covered by the system
Technology overview
Figure 4 shows all available technologies and energy flows in nPro.
Geothermal energy (probes and collectors)
Seasonal storages for heat and hydrogen
Renewable energies: Wind power, photovoltaics, solar thermal energy and hydropower
Battery systems and cold storages
Waste heat and ambient heat sources
Power-to-heat technologies: Electric boilers and heat pumps
Absorption chillers
Conventional heat generators: Boilers and CHP units with natural gas, biomass or biogas.
District heating import and feed-in
Validated calculation
All calculation functions in nPro are based on proven methods. Some functionality has been validated with real-world data, for example the profile generation of energy demands, photovoltaic modules or solar thermal collectors.
Documentation and support
Documentation for the nPro tool can be found in the help section, which we are continuously expanding and enhancing. We also provide video tutorials to simplify the first steps in nPro and to demonstrate the functional scope of the tool through case studies. If questions arise when using nPro, don't hesitate to contact us. We are happy to support you!
Safety and privacy
Data security: All user and project data is transfered encrypted and stored and processed on servers in Germany.
We avoid external service providers wherever possible: All calculations are done on servers leased by us in Germany, and we do not use external calculation services.
Data protection is our highest priority. We therefore strictly comply with German and European data protection regulations.
Further information can be found in our privacy terms.
Do you have questions regarding the nPro tool? Do not hesitate to
contact us
.
This might also interest you
nPro Webtool
Plan your energy system with nPro!
Newsletter
We inform you about new tool features and services.